Devolution In England: The Case For Local Government
HC 503, First Report of Session 2014-15 - Report, Together with Formal Minutes Relating to the Report
Author:

House of Commons - Communities and Local Government Committee

Publisher:

TSO (The Stationery Office)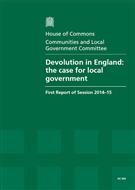 Add to Basket
With the Government handing greater economic freedom to Scotland and Wales, the report 'Devolution In England: The Case For Local Government (HC 503)' concludes that Ministers and general election manifesto writers should show the same enthusiasm for devolution elsewhere in the UK.
Releasing groups of authorities in England, centred on large city and county regions, from the fiscal grip of Whitehall could re-energise local democracy, boost England's economic performance and lead to more balanced growth across the country.
The Committee calls for the transfer of a range of tax raising powers to local authorities, including business rates, stamp duty, council tax and other smaller taxes and charges, along with greater flexibility to borrow for investment.
All local authorities in England should gain decentralised powers over spending and public services, and existing combined authorities should be able to take on a greater range of planning, housing and regeneration powers. Authorities taking on significant devolution will need to cover recognisable economic areas.
The Government should develop a framework for devolution. Significant fiscal powers may go to only a few areas to begin with, but the rest of local government should not be left behind.
No single governance model is recommended, but authorities should be transparent and publicly accountable. They should also be able to demonstrate fiscal competence and have clear and costed plans in place for their enhanced powers.
Find similar publications here: