Fraud And Error In The Benefits System
HC 1082, Sixth Report of Session 2013-14 - Report, Together with Formal Minutes Relating to the Report
Author:

House of Commons - Work and Pensions Committee

Publisher:

TSO (The Stationery Office)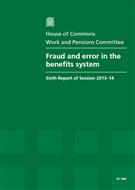 Add to Basket
The report 'Fraud And Error In The Benefits System (HC 1082)' concludes that it remains uncertain how the Department for Work and Pensions (DWP) will manage the housing costs element of Universal Credit (UC), without increased risks of fraud and error.
The Government has stated that an IT system (the Integrated Risk and Intelligence Service (IRIS)) will allow it to cross-check data, and provide similar safeguards against fraudulent claims within the Housing Benefit system. However, the National Audit Office found that IRIS was missing from the UC Pathfinders, and it remains unclear how or when DWP will achieve automated access to the range of property data currently available to local authorities.
The official estimated benefit fraud rate is 0.7% of total benefits expenditure. The general public's misperception is that it is some 34 times higher. To reduce the risk of confusion or conflation in media reporting, it is recommended that the DWP publish statistics relating to the estimated level of benefit fraud on a separate day from those related to error in the benefits system. Fraud and error rates have plateaued from 2005/06 to 2012/13 and DWP must employ innovative approaches which are aligned with the known risk factors associated with each benefit to achieve reductions.
Biometric identity systems could have an important role to play in identity verification processes across Government. The Single Fraud Investigation Service (SFIS), which will investigate all social security benefit fraud across DWP, HM Revenue and Customs and local authorities, should be implemented in line with the roll out of Universal Credit.
Find similar publications here: