Money Advice Service
HC 457, Seventh Report of Session 2013-14 - Report, Together with Formal Minutes and Oral Evidence
Author:

House of Commons - Treasury Committee

Publisher:

TSO (The Stationery Office)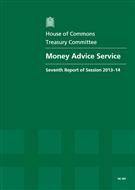 Add to Basket
According to the report 'Money Advice Service (HC 457)', the Money Advice Service (MAS) is not currently fit for purpose. The Committee considered whether to recommend that the MAS be scrapped completely, but given that the Treasury had already announced its intention to conduct a review of the MAS they granted a stay of execution.
The report asks that the Government expedite their review and recommends that it should be independent rather than led by the Treasury. The review must assess whether the MAS should continue to exist and, if so how it can overcome the serious problems discussed. The current management of the MAS should also explain how they are going to act on the concerns identified.
The independent review should seek to answer the following questions:
Should the Money Advice Service-or something like it-exist as a statutory organisation? If so, what should the role and strategy of such a body be?

Should it be a co-ordinator, commissioner or direct provider of advice (and what channels should it use)? If not, should the Financial Conduct Authority (FCA) take responsibility for the objectives of the Service?

Does the FCA need greater statutory powers to hold the Money Advice Service to account?

What are the views of other bodies in this sector about the way in which the Money Advice Service is now engaging with them?

To what extent does the work of the Money Advice Service unnecessarily duplicate existing provision?

What should the role of the Service be in each of the areas in which it operates?

Is the remuneration of the Service's senior staff set at an appropriate level?
Find similar publications here: