Local Enterprise Partnerships
HC 598, Ninth Report of Session 2012-13 - Report, Together with Formal Minutes, Oral and Written Evidence
Author:

House of Commons - Business, Innovation and Skills Committee

Publisher:

TSO (The Stationery Office)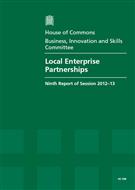 Add to Basket
The report 'Local Enterprise Partnerships (HC 598)' assesses the progress of Local Enterprise Partnerships (LEPs), which have been running for the past two years after replacing Regional Development Agencies. The Committee broadly welcomes the work of LEPs, but also highlights a number of issues that need to be addressed.
Shared responsibility between the Department for Business, Innovation and Skills (BIS) and the Department for Communities and Local Government (DCLG) has resulted in confusion about where responsibility for LEPs lies in central Government. The Committee recommends that a single BIS Minister should be clearly identified as responsible and accountable for the work of LEPs.
The Committee urges the Government to provide the certainty and security that LEPs need to drive long-term growth by setting the levels of their core funding for the five years from 2015 as soon as possible. Different LEPs face very different investment barriers, which makes a one size fits all approach to their funding misguided. In the future, the Government should consider funding allocations on a case by case basis.
There are also serious concerns about the current mechanisms in place to hold LEPs to account. LEPs should engage with all their stakeholders more effectively and publish measureable indicators of their performance in a format easily accessible to local communities.
The Government should take an active approach to monitoring LEPs and must ensure that value for money is being achieved.
Find similar publications here: