Natural Environment White Paper
HC 492, Fourth Report of Session 2012-13 - Volume I: Report, Together with Formal Minutes, Oral and Written Evidence
Author:

House of Commons - Environment, Food and Rural Affairs Committee

Publisher:

TSO (The Stationery Office)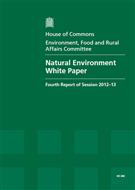 Add to Basket
'Natural Environment White Paper (HC 492)' expresses concern that after more than one year since the publication of the natural environment white paper 'The Natural Choice' (see below), the Department for Environment, Food and Rural Affairs (Defra) has failed to set out clear plans to ensure that the Government's decision-making fully values the services nature provides. All Government policy should fully value natural capital.
Reccomnendations of the Committee conclude that Ministers must:
publish an action plan with a timetable to deliver each of the White Paper's 92 commitments;

give planners and developers guidance on how the National Planning Policy Framework can be used to protect Nature Improvement Areas;

fully assess the benefits and costs of environmental regulation, to prevent a perception that environmental protection imposes a drag on the UK economy; and

publish the Government's response to advice from the Natural Capital Committee.
The report also concludes that offsetting biodiversity can deliver positive impacts on the natural environment; however, the target to end all peat use by 2030 shows a lack of ambition and a review of progress must be brought forward to 2014.
Defra must set a target to increase public engagement with nature, since local authorities, non-governmental organisations and charities, can only secure funding for environmental projects when they can demonstrate measurable success. The Department for Health and the Department for Education must define measurements which demonstrate how greater public engagement with nature can deliver gains in public health and educational attainment.
Find similar publications here: