The Official DVSA Biker Pack
Author:

Driver and Vehicle Standards Agency (DVSA)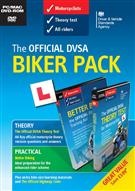 Add to Basket
Get ready for your motorcycle theory test and beyond with this software pack - the ONLY official software revision tool for PC and Mac. Includes the new editions of The Official DVSA Theory Test for Motorcyclists DVD-ROM and Better Biking: the Official DVSA Training Aid DVD. Save £3.99 compared to buying the titles separately.
The Official DVSA Theory Test for Motorcyclists DVD-ROM has been updated in line with the changes to the motorcycle theory test revision bank. The theory test questions now have just one correct option out of four, making the questions easier to understand and reflecting the real test.
Key features
Makes passing your test simpler - follow the clear three-step process "study, practice, test yourself", so that you're completely prepared for your test

Learn from the experts - the official DVD-ROM from the people who actually set the test

Easy to understand - theory test DVD-ROM includes new learning material in clear, bite-sized chunks to help you really understand the theory, whatever your learning style

Learn your way - loads of real-life images and clear diagrams, links to further online in-formation and videos, and hints and tips to help you remember and apply what you learn

Clearly track your progress - it's easy to see how much you've completed, how you're doing and which topics need a bit more work to help you plan your revision

Prepares you for the day of your test - mock tests just like the real thing. The revision questions and case studies cover the same topics as the actual test

All the extras you need - the DVD-ROM including a digital version of The Official Highway Code and voiceover option

Become a more skilful rider - the Better Biking DVD includes advice to help you improve your practical riding skills and hazard awareness with trainer analysis on bends, junctions and roundabouts, plus advice on bikes and equipment.
Please see our help pages for system requirements.
Find similar publications here: