Report By The Health Service Ombudsman For England And the Local Government Ombudsman On A Joint Investigation Into A Complaint Made By Mrs L
HC 182
Author:

Parliamentary and Health Service Ombudsman

Publisher:

TSO (The Stationery Office)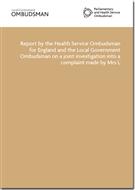 Add to Basket
The investigation 'Report By The Health Service Ombudsman For England And the Local Government Ombudsman On A Joint Investigation Into A Complaint Made By Mrs L (HC 182)', examines the complaint of Mrs L about the care that her father, the late Mr M, received at a Wakefield Metropolitan District Council-funded care home, Hazel Garth and from a visiting community nurse funded by NHS Wakefield District Primary Care Trust.
Mr M was visited by the nurse on 13 October 2009 to deal with a problem with a catheter. Later that day he became unwell and was taken to hospital, where he was treated for urinary sepsis as well as a grade four necrotic (dead tissue) pressure ulcer on his sacrum. He was treated with antibiotics and recovered somewhat, but he died on 23 November 2009.
Mrs L was not satisfied with the responses to her complaints to the Council and the Trust, and complained to the Ombudsmen. Their investigations find service failure by both the Council and the Trust for the care provided in the home, and by the nurse. They also found failings in record keeping at the home and maladministration by both the Council and the Trust in dealing with Mrs L's complaints.
The Council and the Trust's successor (Wakefield Clinical Commissioning Group) are instructed, within three months, to write to Mrs L apologising for the service failures and distress caused by the maladministration; to compensate her for the poor complaint handling; and to prepare action plans that describe what they have done to ensure they have learnt the lessons from the failings identified, and what they have done or plan to do to avoid a recurrence.
Find similar publications here: