Autumn Statement 2014
Cm. 8961
Author:

HM Treasury

Publisher:

TSO (The Stationery Office)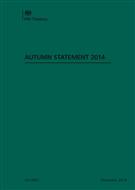 Add to Basket
HM Treasury's 'Autumn Statement 2014 (Cm. 8961)' is published at a time when the UK has the fastest growth among G7 economies, with more people in work than ever before and a deficit forecast to have fallen by a half - by the end 2014-15.
To make further progress towards full employment and create a more highly-skilled labour market, the Government is abolishing employer National Insurance contributions for young apprentices, and offering new loans for postgraduate study.
The Statement also announces further action to rebalance the economy by building a northern powerhouse; improving the connectivity of the south-west of England; devolving unprecedented powers to local areas; and supporting the North Sea oil and gas industry.
Reaffirming its commitment to fiscal consolidation the Government plans to:
commit a further £10 billion of efficiency savings;

revise the Charter for Budget Responsibility;

take further action to ensure that the full costs of providing pensions for public service workers are met by employers;

strengthen Scottish Government powers by devolving further powers over tax and welfare;

prioritising investment in the future of the NHS through a multi-year £3.1 billion UK-wide investment; and

setting out long term investment plans for infrastructure and sustained investment in Britain's science base.
The Autumn Statement also includes radical reform for:
Stamp Duty Land Tax (SDLT) - to improve the functioning of the housing market.

A further £100 increase in the Income Tax personal allowance - to support working families.

Further steps to reduce tax evasion and avoidance.

Tax advantages for married ISA savers - inherited by surviving spouses/civil partners.
Find similar publications here: