Autumn Statement 2012
Cm. 8480
Author:

HM Treasury

Publisher:

TSO (The Stationery Office)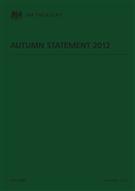 Add to Basket
The 'Autumn Statement 2012 (Cm. 8480)' sets out the Government's plan to provide a further £6.6 billion package of savings in the spending review period; to come from welfare, Official Development Assistance (ODA) and current departmental spending.
A greater proportion of growth-related spending will be devolved to local areas and a Business Bank will be created to deploy £1 billion of additional capital, and enable UK Export Finance to provide up to £1.5 billion in loans, with a package of reforms to promote export.
A £5.5 billion investment will be made for additional infrastructure projects including new roads, science, and free schools and academies.
There will be a further 1% cut in the main rate of Corporation Tax from April 2014, to 21%, and a significant temporary increase in the Annual Investment Allowance from £25,000 to £250,000 for two years.
The Government also detailed plans to:
increase the basic State Pension by 2.5%;

create an HM Revenue and Customs unit dedicated to tackling offshore tax evasion;

introduce the UK's first General Anti-abuse Rule;

develop significant new information disclosure and penalty powers; and

close off tax loopholes.
Lifetime allowances for pension contributions will also be reduced.
The Office for Budget Responsibility forecast for Gross Domestic Product (GDP) growth in 2012 is a fall of 0.1%, but this is projected to pick up in every year of the forecast.
Public Sector Net Borrowing is forecast to fall by 1% of GDP in 2012-13 and in subsequent years of the forecast; while Public Sector Net Debt is expected to be 79.9% of GDP in 2015-16, before falling to 77.3% by 2017-18.