The Role of Incapacity Benefit Reassessment in Helping Claimants into Employment
HC 1015, Sixth Report of Session 2010-12 - Volume I: Report, Together with Formal Minutes, Oral and Written Evidence
Author:

House of Commons - Work and Pensions Committee

Publisher:

TSO (The Stationery Office)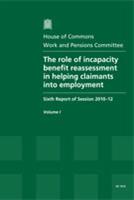 Add to Basket
'The Role of Incapacity Benefit Reassessment in Helping Claimants into Employment (HC 1015)' reports the Work and Pensions Committee's support of the Government's objectives for the incapacity benefit (IB) reassessment, which are to help people with disabilities and long-term health conditions to move back into employment, while continuing to provide adequate support for people who have limited capability for work or are unable to work.
However, the report finds that the Government's positive messages about the IB reassessment are not getting through to the public.
The report argues that the Government should be more proactive in explaining its aims for the process and in emphasising the range of support which will be available.
Current incapacity benefit claimants are being reassessed to decide whether they are able to work.
The inquiry looked in detail at the Work Capability Assessment (WCA), the test which is used to assess whether an incapacity benefit claimant is capable of work, or work-related activity.
It is widely accepted that the WCA was flawed in the form in which it was introduced in 2008 for new Employment and Support Allowance (ESA) claimants, leading to a high proportion of inaccurate assessments and poor decisions by Jobcentre Plus. Many of these decisions were overturned at appeal.
The report acknowledges that many welcome improvements have been made to the reassessment process as a result of the review by Professor Malcolm Harrington and the trial of the process carried out in Aberdeen and Burnley, before it was introduced nationally.
WCAs are carried out by Atos Healthcare as part of a contract with the Department for Work and Pensions (DWP).

Find similar publications here:

Show all Subjects & Categories