The UK Good Practice Guide to Working in Safety Advisory Groups
Author:

Emergency Planning College

Publisher:

TSO (The Stationery Office)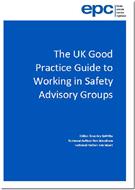 Add to Basket
The guidance clearly sets out the role of the Safety Advisory Group (SAG), defining how it should be set up as well as identifying who should attend, what events should be considered by a SAG and what an organiser can expect when attending. The guidance focuses on quality assurance of event safety plans and offering sound safety advice to organisers.
With the increase in the number, variety and complexity of public events, from street parties to festivals, many local authorities now convene advisory groups for other types of activities which fall outside the legal framework for certificated sports grounds. This document seeks to provide guidance which could be applied to both types of advisory groups, reflecting the distinctive roles and status of each.
The Emergency Planning College has worked closely with partners in the entertainment and events industry and in government to ensure good practice in public safety is established and promoted through this guidance.
Key features
The Health and Safety Executive was consulted in the production of this guidance document.

Contains a chapter covering Safety Advisory Group constitutions which covers terms of reference, membership of the SAG, Chairing of the SAG, roles and responsibilities, policy to underpin procedures, event consideration, processes and meetings, and administration.

Other chapters cover options and limitations of the SAG and exceptional circumstances

Appendices contain a summary of the most relevant legislation, statutory responsibilities of members and examples of SAG good practice.
More information
'It is important that everyone involved in delivering spectator events understands the roles, responsibilities and liabilities.' Ruth Shaw, Chief Executive, Sports Grounds Safety Authority
'We are delighted that Emergency Planning College consulted widely with the industry to produce this guidance which we believe will be of benefit, not only to the users but to the wider events industry.' SH - General Secretary, AFO
Find similar publications here: