Blog
---
ITIL 4: Digital and IT Strategy (DITS), Erika Flora and David Cannon, Lead Editors, answer your questions
November 2020
By Erika Flora and David Cannon


Digital technology today
Digital technology has ushered in a new age of business, society, and economy. Things work differently today than they did just 20 years ago, and they will continue to change. But many things have not changed. An organization that embraces the changes brought by digital technology will be even more successful if it remembers that it exists for the humans it serves and employs, and the environment in which it operates.
Many of the principles and practices that have been learned over the decades are just as important as ever. Governance, leadership, service, and quality are not uniquely digital issues. Digital technologies may make those tasks easier, but they also introduce more levels of complexity, volatility, and uncertainty. In most cases, the best way to achieve excellence is to rely on what will last beyond the most recent wave of technological innovation. ITIL 4: Digital and IT Strategy is a means for organizations to find better ways of meeting the needs of real-life communities using a combination of existing and emerging technologies.
...Read more
Research for this guide has shown that successful organizations have been doing many things right and that they should continue to do so. However, we also know things that we should be doing, but are not, and ITIL 4: Digital and IT Strategy can serve as a guide to get you back on track.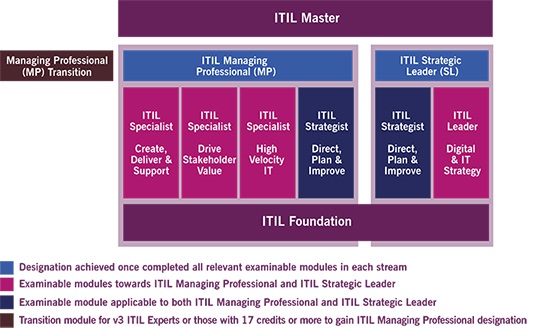 ITIL 4 certification scheme ©AXELOS
What will I learn by reading ITIL 4: Digital and IT Strategy?
This new title will help you and your teams explore new ways of working, view emerging technologies and innovation through a new lens, have more meaningful conversations, and ultimately provide better products and services.
ITIL 4: Digital and IT Strategy provides detailed guidance for leaders on how to create and communicate a digital strategy effectively, respond to and manage rapid change, lead an organization through their digital transformation efforts, cultivate an agile, innovative, and resilient company, all while doing so in a volatile and ambiguous digital environment. It deals specifically with defining, communicating, and implementing a digital strategy, both within IT as well as across the entire organization.
Additional topics within ITIL 4: Digital and IT Strategy include assessing an organization's digital readiness, structuring a business case for change, selecting appropriate business models and position, and measuring the effectiveness and progress of a digital strategy. The title provides relevant, timely and practical tools, techniques, and templates. The publication is also a great starting point for knowledge and learning around digital strategy, serving as a reference guide for professionals at all levels of an organization as well as helping those who want to gain certification on this topic.
...Read more
How does DITS fit into the wider picture of the ITIL 4 pathway?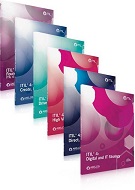 ITIL 4: Digital and IT Strategy is one of the two books, together with ITIL 4: Direct, Plan and Improve, aligned with the ITIL 4 Higher-Level guidance towards the 'Strategic Leader' designation.
It builds on the concepts introduced in ITIL® Foundation, ITIL 4 edition and serves as a complement to the other four ITIL 4 Managing Professional publications, all shown here.
Where can I get a copy of ITIL 4: Digital and IT Strategy?
It can be purchased as an online subscription, electronic book, or in hardcopy format here. The online/electronic formats are helpful for quickly searching material and consuming information on a variety of devices. The hardcopy is a great format for taking notes and having as a convenient desk reference at any time.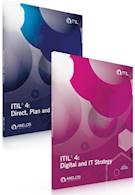 ITIL 4: Digital and IT Strategy can be purchased alone or as part of a two-book publication set called the 'Strategic Leader Pack' shown here. The set includes ITIL 4: Digital and IT Strategy as well as ITIL 4: Direct, Plan, and Improve (DPI).
ITIL 4: Direct, Plan, and Improve works with the information in ITIL 4: Digital and IT Strategy as it gives an overview of how to align product and service management with modern business requirements, drive successful organizational transformation, and embed continual improvement into an organization's culture at every level once a solid digital strategy is in place.
We hope you enjoy reading ITIL 4: Digital and IT Strategy and welcome your feedback.
---
About the authors
Erika Flora started her career as a Microbiologist and turned Project Manager because has always had a passion for improving how companies deliver innovative products and services to their customers. Erika works with global organizations as a consultant, instructor, and coach and, over the years, she has led several successful digital transformation initiatives.
...Read more
In 2006, she founded BEYOND20, a woman-owned, minority-owned IT consulting, training, and software development company based on ITIL and other 'best practice' frameworks.
Erika is an avid supporter of women in technology, and BEYOND20 is a frequent sponsor of STEM events. She is a skilled blogger, presenter, and Lead Editor for the ITIL 4 Leader: Digital & IT Strategy publication (@erikaflora).
David Cannon is an industry expert and trusted consultant who has been at the forefront of helping organizations understand and adjust to major shifts in the technology industry over the past three decades.
...Read more
He is known for crafting industry best practices for Strategy and IT Operations and uses them extensively to make organizations function more effectively and efficiently. He has led consulting practices in Forrester, Hewlett-Packard and BMC Software.
David is the co-author of ITIL 2007 Service Operation, author of ITIL Service Strategy: 2011 and Lead Editor of ITIL 4: Digital and IT Strategy. He was awarded two lifetime achievement awards by the itSMF.
---
Related titles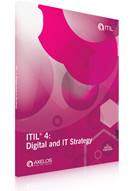 Publishing: 25 Sep 2020
ISBN: 9780113316496
Price: £85.00
Publishing: 07 Aug 2020
ISBN: 9780113316847
Price: £150.00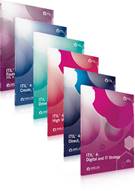 Publishing: 07 Aug 2020
ISBN: 9780113316861
Price: £400.00
---