The new Managing Successful Programmes (MSP®) 5th Edition - essential guidance in a changing world
November 2020
By Dr Ruth Murray-Webster, Lead Editor of MSP 5th Edition and John Edmonds, PPM Portfolio Development Manager at AXELOS
Since 1999, Managing Successful Programmes has been a valued companion to people leading change in their organizations across all industry sectors. It has led the field for guidance on business change for two decades.
After ten years since publication of the 4th Edition, it was time for a re-think of the content. What will be encouraging for existing users of MSP is that many core aspects of the guidance remain - because they work in practice.
...Read more
This current Edition continues to have an integrated framework, built on principles that are applied across the themes and the processes in the iterative and incremental programme lifecycle. The core principles, themes and processes have been refreshed and extended, but their structure will be familiar to existing MSP users and logical to those encountering MSP for the first time.
Realizing benefits and delivering a return on investment
MSP guides the work to define outcomes of benefit. It designs, justifies and structures the work that delivers new capabilities and embeds these over time, and the work to govern and assure risk-based decision-making and continual improvement.
This thinking has not changed over the years. The consistent focus on benefit realization is one of the features of MSP that makes it popular across industries. The fifth edition provides even greater focus on justifying the investment in financial and non-financial terms and then delivering those benefits incrementally - delivering a return on investment in practice.
What is new in the 5th Edition?
There are two areas to emphasise:
Applicability across multiple organizational challenges and scenarios: the research conducted before preparing the 5th Edition, and our experience of working with organizations, told us that adopting a programmatic approach is useful in multiple scenarios. As a result, MSP now has four different, fictitious, but realistic scenarios that run through the guide and illustrate how MSP can be tailored and applied to achieve very different organizational objectives.

The ability to tailor the content was a key design feature. It will be easier for organizations to adopt MSP using this version: fewer rules, more flexibility to make governance arrangements fit the unique organizational context

How MSP enables organizational agility in a fast-moving world: it is clear that organizations more than ever need to be able to anticipate and act in response to disruption. Whether the disruption is coming from the outside - competitor innovations, public health crises, global recessions or climate crises - or whether your organization sees the opportunity to be a disruptor, to deal with disruption requires major change. MSP enables leaders to guide and govern that change in a way that is flexible and adaptable, yet always focused on the value that is being created. MSP has always had an incremental, cyclical lifecycle but we have emphasised this and provided greater guidance on how to deal with emergent context. This approach makes a significant contribution to the investing organization achieving a level of 'enterprise agility' - a key organizational capability in a fast-moving world.

Programmes that adopt MSP may, of course, also contain projects that use Agile ways of working - the projects and other work within programmes may adopt different modes of delivery. We have taken a clear line on enterprise agility and the use of Agile ways of working and we hope that users will leverage benefit from both of these (different) concepts.
Ready for the change to come?
Fundamentally, our aim has been to extend and strengthen the value of MSP to organizations in all sectors as they navigate the change they need to thrive. Time will tell if we have achieved that aim and whether MSP will continue to be the go-to guide for leading significant organizational change.
About the authors
Dr Ruth Murray-Webster is recognised as a leader of organizational change and risk management performing roles as a practitioner, advisor, facilitator, researcher and author.
Read more about the author...
Ruth has experience in delivering change objectives in most sectors supported by multiple publications and her doctoral research that studied programmes through the eyes of the recipients of change, those who were expected to embed new capabilities to create outcomes of benefit and value. Ruth was lead editor of the 5th Edition of MSP.
John Edmonds is the PPM Portfolio Development Manager at AXELOS, responsible for the oversight of the entire PPM portfolio, ensuring it is constantly developing to meet end user needs and market demand, and that it continues to remain the market-leader in the world of programmes and projects.
Read more about the author...
Before joining AXELOS, John designed and delivered learning and development events, courses and workshops for a wide range of clients, in both the private and public sectors in many international settings, and across a variety of cultures, including Europe, Africa, Asia, the Middle East, and Northern America.
Related titles
Managing Successful Programmes 5th edition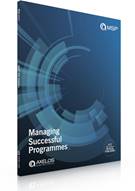 MSP is a globally recognised framework for best practice programme management. The MSP 5th edition offers essential guidance for the MSP Foundation and Practitioner certification and is the next step for PRINCE2 qualified practitioners and project managers.
This is the latest and recommended version for MSP certification.
Available formats: