Five ways that best practice guidance can help you be resilient during challenging times
March 2020
By Maria Cobano-Conde, Content Development Manager at The Stationery Office (TSO)
The recent turn of events has thrown many of us into a spiral of uncertainty and worry. With the spread of Covid-19, we feel on edge and many negative emotions are arising. Anxiety, anger, and despair are human and understandable ways to feel right now. We understand that, for many, this is a time to address essential needs and life-changing conditions. At this difficult time, The Stationery Office would like to offer you support by helping with what we do best: our best practice guidance.
Below, we identify five ways in which those who have the infrastructure and ability to work from home, and those who are currently less seriously affected by Covid-19, can use our best practice guidance to turn this challenging time into an opportunity for reflection, self-care and growth.
Read more...
Give yourself time and space
The new order of things means that most of our usual routines have been changed until further notice. However, this can be an opportunity to take some 'me' time to reflect and re-assess your priorities. In normal times, you might have been truly busy and unable to think about where you want to take your career next, or to plan to upgrade your professional skills. This is a good time to consider both, discover where your strengths and weaknesses lay, and fill gaps in your career. We have a wide offer of ITIL and project management best practice guidance, where you can find a wide range of titles to cater to your needs.
Schedule engaging activities
An effective means to keep negative thoughts at bay is to schedule engaging activities into your new at-home routine, and to establish clear boundaries in your home between work and personal time. These boost your mindfulness and help you connect with something you love doing. Learning is a great way to engage and stimulate thought. For this, we have a broad range of best practice guidance you can enjoy in your personal time. ITIL 4 Foundation and ITIL 4 Managing Professional, Managing Successful Projects with PRINCE2 and PRINCE2 Agile are all key frameworks to introduce you to new ways of working and to expand your professional knowledge. They are each available in digital and downloadable PDF formats, so you can schedule learning time without leaving your home.
Set yourself a challenge to look forward to
'A problem is a chance for you to do your best' (Duke Ellington, American composer). Many times, adversity is a great teacher that pushes us to give our best and spark our creativity. We can capture all that energy into taking-on a new challenge. Professionally, this could mean taking an ITIL or project management certification to polish your abilities and step-up in your career. You can track your progress using our range of apps or use our online revision guides to help you study, revise, and practice for that new challenge you will achieve next.
Connect with fellow professionals
It is important to keep connected to overcome the feelings of isolation and loneliness - small things like having your meetings with video switched on can make a difference to feeling engaged with colleagues remotely. You might even look to meet new fellow professionals who will bring new ideas into your career and present exciting projects in which to collaborate. Our LinkedIn group, ITIL LinkedIn page, PRINCE2 LinkedIn page, and our ITIL and PRINCE2 Twitter accounts are active melting pots of ideas and stimulating discussions. In addition, our blog brings you the names of the best professionals discussing current hot topics in the sectors. You can also find interesting webinars at AXELOS' website.
Plan for your future
Focusing on the bigger picture and your long-term goals is an effective way to keep yourself motivated. A good way to get ready for what tomorrow will bring is to invest in yourself and plan for your future. You can make the most of the quiet periods that you may have right now and outline how you want to take your professional life forwards. Maybe a career change? Or new training to become a senior professional, a Director, or to step into the C-suite of your organisation? We offer higher levels of our ITIL and project management best practice guidance. ITIL 4 Managing Professional helps you build on ITIL 4 Foundation, and Directing Successful Projects with PRINCE2 provides all the essential information for managing projects at the board level.
We would love to hear about your best ideas to be resilient and stay focused during uncertain times using learning. Share your thoughts in the comments below!
About the author
María Cobano-Conde is the Content Development Manager at The Stationery Office (TSO) for the AXELOS Global Best Practice account.
...Read more about the author
TSO is the largest publisher in the UK by volume. It has a 200-year inheritance of secure, no-fail delivery as the publisher to UK Government and Parliament and more recently, as publisher for many commercial organisations.
As the Official Publisher for AXELOS, it specialises in IT Service Management and Project Management best practice guidance. More information on eBooks, PDF and hard copy titles can be found at the TSO shop.
ITIL Foundation, ITIL 4 edition
ITIL 4 Managing Professional Pack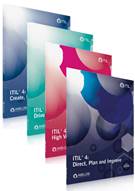 Includes all core manuals in the ITIL 4 Managing Professional pathway in one cost-effective pack.
Available formats: