ITIL v3 to ITIL 4: four reasons to make the change
March 2020
By Katrina Macdermid
As a consultant and certified ITIL 4 trainer, I am on the frontline of implementing ITIL into all kinds of workplaces and industries. More than that, I believe in ITIL. So, many times, practitioners and organizations ask me about the value in changing from ITIL v3 to its latest evolution, ITIL 4.
I am also an official contributor to the new ITIL 4 guidance. Last year, with my crew, we created a narrative that presents a fictional company called Axle Car Hire and its staff members and customers. They bring ITIL to life. And they show how ITIL is not a rigid and process-driven IT framework, but a relatable service model that can be adopted and adapted in any area of an organization.
Read more...
Allow me to introduce you to Axle Car Hire' staff members:
Henri
CEO
Radhika
Business Analyst
Solmaz
Business Transformation Manager
Su
Product Manager for Travel Experience
In this blog post, Axle Car Hire' leaders will answer your questions about why it is worth making the change from ITIL v3 to ITIL 4.
1. Why ITIL 4 now?
Radhika:'By 2019, digitization had changed things. New frameworks were in place. Agile was taking the world by storm. DevOps was winning over an increasing number of workplaces. People wanted something fast, new and modern to keep up with these changes and growing customer expectations. They didn't think ITIL could cut it, because they thought it was 'prescriptive', 'inflexible' and 'too process-driven'. This was especially true with the younger generation entering IT.'
Henri:'As a senior executive, ITIL was something I had always used. But a service management framework from a decade ago seemed… old. To remain competitive, we needed to modernize our IT service management capability. It was time for an upgrade.''So, the release of ITIL 4 in 2019 was so timely to us. ITIL is rolling with the times and now applies to DevOps, Customer Experience (CX), Agile, digitization, and even Human-Centred Design.'
Su:'I have just completed my ITIL 4 Foundation course. What a pleasant surprise! ITIL 4 is compatible with any kind of service management, both within and outside IT. I will definitely use it as the underpinning framework for Travel Experience.'
Henri:'You might ask… why ITIL 4 now? Well, because it's taken everything you thought you knew about ITSM and updated it to be flexible. It adapts and adopts to any service, product, organization or capability.'
2. Why change from ITIL v3 to ITIL 4?
Henri:'ITIL has a loyal tribe of followers. So, if you're already using ITIL v3, you must wonder: why change to ITIL 4? Is it worth updating your business? It's a big change.'
Solmaz:'I've been mapping business and IT processes since the early noughties. Back then, if you wanted to map, for example, the incident management process, you hauled out your copy of Visio. You put a series of shapes on a page and tried to build a linear relationship between them. Maybe with a few decision points. This gave you a siloed view of how incident management worked, and you missed the customer experience. You can see it in the ITIL v3 the diagram below.'
Figure 1: Siloed view of incident management (service recovery) ©AXELOS
Radhika:'When you think about it, this doesn't give the full picture of what the process is trying to achieve. ITIL 4 has introduced the concepts of value chain and value streams. It's different… so it took me some time to understand it. But oh, my goodness! What a fantastic way to mapping what Axle Care Hire does. A whole new holistic perspective on understanding how we co-deliver value to our customers.'
Solmaz:'Value stream mapping allows us to show the whole journey, from customer demand to the co-delivery of value to our customers. Incident management is one practice we use in the co-creation of value. There's also relationship management, knowledge management, release management and service desk management. You can see it our example below, 'replacement of a damaged vehicle'.
Figure 2: Value stream for Axle Care Hire. Replacement of a damaged vehicle
Henri:'As in ITIL v3, we still have incident management, but we now call it a 'practice' (of which we now have 34). What ITIL 4 now shows us is that we can't deliver value based on one practice in isolation. Practices support/enable the co-delivery of value.'
3. Why care about transitioning from ITIL v3 to ITIL 4?
Radhika:'Plenty of people think ITIL limits to IT. People outside IT sometimes ask, "why should I care?"'
Solmaz:'Wherever you work, whatever you do, you can use ITIL 4 to articulate, map, streamline and manage your services. Both as a supplier and a customer.'
Henri:'People assume that ITIL is at war with frameworks like DevOps and Agile, who focus on speed to value. They think ITIL is a monolith that could only slow you down.'
Radhika:'Except, it's not true! ITIL 4 has been described as the picture on a jigsaw box. It shows us how all these frameworks work, when to use them (after all, Agile is not appropriate for all types of projects) and is a single reference point to understand everything about service management.'
Su:'If you're wondering… why should I care? I can tell you it's because the world is changing. Digitization, increasing customer demand and competitors disrupting the status quo with alarming speed are happening. ITIL 4 provides the framework to remain competitive in this change.'
4. Transitioning from ITIL v3 to ITIL 4: why not?
Henri:'If you've read this far, at this stage you might be wondering if you should try out ITIL 4 for yourself. Our answer is: why not? See if you can adapt ITIL 4 to the service management in your organization.'
Radhika:'Using ITIL 4 doesn't cut you off from making use of any other existing framework. It offers a way to evolve and improve services in your organization and to complement existing ways of working.'
Solmaz:'You can always start small, with just one area of your business. Use that experience to learn, adapt, and grow ITIL 4 at your own pace.'
Su:'That's what ITIL 4 is all about. Adapt and adopt!'
About the author
Katrina Macdermid is an ITIL Global Ambassador and expert in the integration and creation of her framework, Human Centred ITIL Service Design. A qualified ITIL Master and Human Centred Design Consultant, Katrina has a solid background and history of managing large transformation projects valued up to $2 billion with some of the largest national and international globally recognised organisations.
...Read more about the author
Together with Qatar Airlines, she is the Co-chair of an Airlines Operation Board representing over 200 airlines. The Board's primary objective is to improve and help shape the future of airline support models.
She is also Director of STCK Consulting, offering a unique vision that challenges traditional support models and IT metrics typically used to determine how well (or not so well) a service provider is performing.
KayJayEm, of which Katrina is also Director, is an ITIL 4 Authorised Training Organisation. Katrina is also an author of the official revised ITIL 4 framework.
Related titles
ITIL Foundation, ITIL 4 edition
ITIL 4 Managing Professional Pack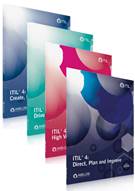 Includes all core manuals in the ITIL 4 Managing Professional pathway in one cost-effective pack.
Available formats: