ITIL® 4 Managing Professional guidance: the toolbox you need for IT Service Management
February 2020
By Maria Cobano-Conde, Content Development Manager at The Stationery Office (TSO)
Evolving from the previous ITIL v3 version, ITIL 4 supports IT practitioners in navigating the modern digital work and transforming their working practices to achieve the ultimate end goal: the collaborative co-creation of value between businesses and customers.
This month TSO, Official Publishing partner for AXELOS, released the four titles for AXELOS' ITIL 4 Managing Professional guidance: Create, Deliver and Support; Drive Stakeholder Value; High-velocity IT, and Direct Plan and Improve. We are extremely proud to offer this great deal of useful knowledge and practical advice to the IT Service Management community. We are confident, and hopeful, that they will help to make the work of IT practitioners better.
...Read more
All of them building on ITIL Foundation, ITIL 4 Edition, the manuals will support IT practitioners with practical and strategic knowledge to run successful IT-enabled services, teams, and workflows across businesses. Let's have a look at the guidance in more depth.
Innovating with Create, Deliver and Support
Create, Deliver and Support, with Barclay Rae as a lead editor, aims at IT practitioners managing digital and IT-enabled products and services, and at those responsible for end-to-end delivery (for example, IT Operations Managers, Developers and Information Security Specialists). The title will enable IT practitioners to deliver innovative, yet reliable tech-enabled services to their customers through service quality and improvement methods. Focused on a practical and holistic approach rather than technical aspects, Create, Deliver and Support will also instruct how to create and manage effective services that change an organisation's working methods in service management.
Designing the customer journey with Drive Stakeholder Value
For a deeper focus on the customer journey and stakeholder satisfaction, Christian Nissen acted as the lead editor in Drive Stakeholder Value. The manual gives IT practitioners the tools to convert 'demand' to 'value' via IT-enabled services, working with the interaction between service providers and stakeholders. In practice, this means that service providers will help their customers to raise mutual capabilities as part of the product development relationship (thus, value is co-created). These capabilities include high satisfaction levels and optimisation of the customer experience through user experience (UX) and customer experience (CX) design, which are integral to business success in the modern service economy. Business Relationship Managers, Project Managers UX/CX Designers and Scrum Masters (among others) are examples of professionals who will gain the most value from of Drive Stakeholder Value.
Operating as a digital native with High-velocity IT
To help organisations and IT practitioners operate like successful digital natives, Mark Smalley led a team of experts for High-velocity IT. With the support of this guidance, IT practitioners will learn to apply digital technology (Cloud, Automation, Automatic testing e.g.) and working practices such as Agile and Lean, together with ITIL, for rapid delivery of products and services to market. In the long term, this will drive optimisation and integral transformation. Although DevOps Engineers, Software Developers and Scrum Masters (among others) will make the most of the guidance, it will also empower traditional IT practitioners and organisations to update their skills and practices for the high-velocity digital era.
Governing the strategic direction with Direct, Plan and Improve
Finally, the title universal to Managing Professional and ITIL Strategic Leader: Direct, Plan and Improve, is led by Lou Hunnebeck. It is so because it guides IT practitioners to deliver continual improvement through governance in IT organisations. The core goals are to align IT strategy and operations to maximise outcomes, leveraging Lean and Agile ways of working combined with ITIL. With the assistance of the guidance, Change Managers, Risk Managers, and Information Security Managers, (among others) will learn to create evolving, high-performing organisations and digital teams.
Hopefully this overview helps understanding of the full power and expertise that can be gained from the ITIL 4 Managing Professional guidance. We are looking forward to hearing your feedback which, as ever, will help us improve our best practice guidance to support organisational excellence, assist with IT careers and enhance long-term learning journeys.
About the author
María Cobano-Conde is the Content Development Manager at The Stationery Office (TSO) for the AXELOS Global Best Practice account.
...Read more about the author
TSO is the largest publisher in the UK by volume. It has a 200-year inheritance of secure, no-fail delivery as the publisher to UK Government and Parliament and more recently, as publisher for many commercial organisations.
As the Official Publisher for AXELOS, it specialises in IT Service Management and Project Management best practice guidance. More information on eBooks, PDF and hard copy titles can be found at the TSO shop.
Related titles
ITIL 4 Create, Deliver and Support
ITIL 4 Managing Professional Pack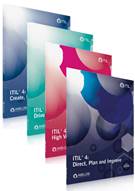 Includes all core manuals in the ITIL 4 Managing Professional pathway in one cost-effective pack.
Available formats: