What are successful PMOs made of?
November 2019
By Marisa Silva, The Lucky PM
Please, show me a successful PMO
While project management has become an established way of organizing work and delivering change in most organizations, PMOs (project management offices) have not yet fully benefited from similar recognition and their value is often challenged. In fact, you usually don't see other departments, such as Legal or Finance, having to justify their existence. This, however, is a well-known scenario for PMOs, who still face a high mortality rate; research by the Association for Project Management (APM) shows that 50% of PMOs are terminated after only three years. They are typically the first to go when companies are forced to reduce costs. A question should, therefore, be asked: how do we make PMOs indispensable to business? Are there successful examples out there to guide PMO leaders?
I have some good news for you. Yes, there are!
Read more...
What are successful PMOs made of?
For more than the past 15 years, I have been fascinated with striking the balance between two approaches. On one hand, a structured approach to risk management [such as that described in Management of Risk (2010) or the international standard for risk management (ISO31000: 2018)]. On the other, a people-centred approach that shines a light on the many ways in which human beings are subconsciously wired for self-protection. As research shows, unless we intervene we are pre-programmed to avoid loss, to listen to the most recent or memorable signals, and to value social cohesion, rather than making a difficult choice based on structured risk analysis (and a whole host of other biases). Our unchallenged, subconscious choices might not be the best way to make changes or create value.
My work with Dr David Hillson and Dr Penny Pullan has attempted to hold up that balance. Intuitive choices made by individuals are not enough, and neither is relying on 'tick the box' adherence to methods and processes to save-the-day without inquiring and making individuals aware of working with them. Whatever your experience of risk management at work or in life is, I would encourage you to think again. Where might your use of processes be partial or not adding value because it doesn't mind the influence of inherently biased people?
Management of risk in practice
To be honest, there are no 'secret recipes', I tricked you. When it comes to PMOs, there is no silver bullet nor 'one size fits all'. All PMOs are different, exist in a different context, have different priorities, and different settings. Nevertheless, having assessed dozens of PMOs, I can confidently say that they all share the following traits:
1. They know their 'why'
High-performance PMOs don't read the textbook, design the PMO, and then try to convince others that it was a great idea. Instead, they have a clear purpose, a reason to exist, whether it is a corporate problem, a strategic project that failed or a business opportunity. They know their 'why'. Yet, they don't think they know it all. They are humble enough to understand that in order to deliver value and to build a perception of value, they need to know what is appreciated by their customers. And you heard me right, I said 'customers', not 'stakeholders.' Best-in-class PMOs know that they exist to serve customers that require a service. At the end of the day, you wouldn't launch a product to market without doing market research, so why do most PMOs still go straight into delivery-mode, without taking the necessary time to understand their customers and capture their perception of value?
2. They collaborate and they co-create
Lasting successful PMOs know that change needs to be done with people, not to people. That's why they need to bring customers on the journey with them and collaborate extensively – not just with the project teams but with all the departments in the organization. PMOs work as 'silo-breakers' and are an instrument of integration in the organization, the one-stop-shop for anything that has to do with projects. Their collaboration doesn't end in simply asking for feedback or inviting people to meetings. Instead, best-in-class PMOs co-create all their key artefacts and processes. They know that 'no one destroys what one helps to build'.
3. They communicate, communicate, communicate
Successful PMOs spend most of their time communicating and engaging with their customers. However, rather than just demanding information from them as most PMOs do (status reports, timesheets, updates, etc.), these PMOs are information radiators: they apply a proactive approach to communication that goes way beyond mere reporting. Sometimes, they even put together and chair communities of practice. They communicate, not just the achievements and learnings from projects, but also the progress and learnings within the PMO itself. They recognize that they cannot be credible or build trust if they are keen to report on projects' performance but don't say a word about their own performance. These PMOs have come to realize that, even if they are doing a great job, if no one knows about their existence or where they sit, no wonder people will challenge them!
About the author
Marisa Silva, the Lucky PM, is an experienced certified PMO and PPM advisor, trainer, and speaker, with a track record of building capabilities in complex organizations undergoing transformational change. A passionate advocate of the value of PMOs and project management, she was Programme Director at Project Managers Without Borders, Secretary of the Association for Project Management PMO Specific Interest Group (SIG) and is a certified PMO Value Ring consultant who co-authored the only Association for Project Management-accredited PMO Practitioner course.
...Read more about the author
Marisa is the author of Bedtime Stories for Project Managers and a Senior Consultant at Wellingtone, a UK-based leading project management consulting firm dedicated to enabling step-change in organizational PPM maturity.
Related titles
Managing Successful Projects with PRINCE2 6th Edition
PRINCE2 Agile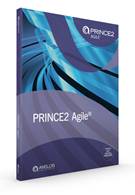 As a blended approach, PRINCE2 Agile gives project managers the skills and knowledge to benefit from agile delivery, whilst maintaining purposeful levels of control with PRINCE2.
Available formats: