ITIL® 4 Foundation Revision Guide
Paperback, Pack of 10
Author:

itSMF UK

Publisher:

itSMF UK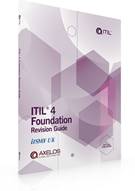 ITIL 4 has evolved from the previous, ITIL v3, version by re-shaping much of the established ITSM practices in the wider context of customer experience, value streams and digital transformation, as well as embracing new ways of working such as Lean, Agile, and DevOps.
The ITIL 4 Foundation Revision Guide, written by experts and endorsed by itSMF UK, compliments the core content in the ITIL 4 Foundation Manual and enables candidates to focus on the areas that will be examined, understand the best ways to approach the questions, as well as provide exam hints and support to maximise ITIL 4 Foundation success.
Key features:
The ITIL 4 Foundation Revision Guide;
provides a pocket sized or e-book revision aid, to support the learning and training process and for quick revision for those taking the ITIL 4 Foundation examination

supports those working in IT Service Management and in delivering ITIL 4 Foundation in practice as an ongoing reference guide

allows candidates to carry the book with them at all times, in the run up to the exam and afterwards for ease of reference

is short and easy to read

is authored by experts from itSMF UK
Alternative formats
Managing Professional examinable Practices available through My ITIL.