Deciding which risks to take?
December 2019
By Dr Ruth Murray-Webster
We all have choices to make: who to vote for? A career change or staying where we are? Spend or save? In all aspects of life, we make decisions in the face of uncertainty.
We make some of our daily choices without much conscious thought. We plan for others and we put them in place with great care. All choices carry a chance that things won't work out to our liking. Some matter more than others, either in the short or the long-term. It's all about risk management–how much of a chance are we prepared to take in achieving the things that matter most to us?
Read more...
When the choices and the consequences are ours, things are simple. But when the choices we make (individually or collectively) have the potential to influence many other people, we should pay more attention to how we check the threats and opportunities that would impact on our objectives. While assessing the risks, we can decide whether it's worth 'going for it' or, instead, spending time investing in responses to increase certainty.
Challenging subconscious choices
For more than the past 15 years, I have been fascinated with striking the balance between two approaches. On one hand, a structured approach to risk management [such as that described in Management of Risk (2010) or the international standard for risk management (ISO31000: 2018)]. On the other, a people-centred approach that shines a light on the many ways in which human beings are subconsciously wired for self-protection. As research shows, unless we intervene we are pre-programmed to avoid loss, to listen to the most recent or memorable signals, and to value social cohesion, rather than making a difficult choice based on structured risk analysis (and a whole host of other biases). Our unchallenged, subconscious choices might not be the best way to make changes or create value.
My work with Dr David Hillson and Dr Penny Pullan has attempted to hold up that balance. Intuitive choices made by individuals are not enough, and neither is relying on 'tick the box' adherence to methods and processes to save-the-day without inquiring and making individuals aware of working with them. Whatever your experience of risk management at work or in life is, I would encourage you to think again. Where might your use of processes be partial or not adding value because it doesn't mind the influence of inherently biased people?
Management of risk in practice
Imagine a scenario in which a risk was raised in your project meeting that was dismissed as not important by a senior person with a strong opinion that the event will never happen based on their experience. You were told not to include the risk in the risk register. You know that there are some emerging data to suggest that the likelihood of the risk occurring is increasing. You know the impact on the project would be high if the risk occurred. Do you follow the leader, or do you find a creative way of presenting the new data and having a wider conversation? Where might the bigger decisions you make – whether at home or work – be helped by having more rigour in the process and governance?
Picture this situation too: a business development opportunity has arisen that would need a significant investment in time and money, but where the payback could be spectacular if all went well. The decision-making authority is with the team (no need to get authority from higher governance) and they are focused on the upsides and making those happen. There have been a few discussions about threats, but the team doesn't want to get drawn into a negative mindset. Should the team stand back and ask a neutral person to ease a discussion that enables to weigh the value of the threats against the value of the benefits? Or should they go with their hunch and hope they are lucky?
Making decisions in risky and important situations is relevant to everyone. It's how we create things of value for our lives and businesses, and how we destroy value if we don't get it right – either through poor management or bad luck. For me, understanding and managing risk is too important a subject to relegate it to the 'too boring' or 'too difficult' box. What can we change to create more value?
About the author
Dr Ruth Murray-Webster is an experienced consultant and practitioner in the areas of organisational change and risk management.
...Read more about the author
Ruth has more than 30 years of experience in a series of roles to enable organisations in most sectors to deliver change objectives, including recent appointments as Director and Change Portfolio-Group Head of Risk for a major port operator, and Director-Risk in the Boardroom practice for KPMG LLP. On the journey, Ruth researched organizational change from the perspective of the recipients of change for an Executive Doctorate at Cranfield School of Management.
Ruth's parallel interest in risk management arose from a passion to help organizations to take educated risks, not avoid them. She has co-authored four books on the people aspects of risk management with David Hillson (Understanding and Managing Risk Attitude, 2007; Managing Group Risk Attitude, 2008; A Short Guide to Risk Appetite, 2012), and Penny Pullan (A Short Guide to Facilitating Risk Management, 2011) and more recently, two book chapters for Kogan Page specifically on the subject of risk and organizational change.
She has published papers in the areas of project complexity, organizational ambidexterity through projects and programmes and multi-paradigmatic perspective on business transformation programmes.
Ruth was Lead Author of Management of Risk (2010) published by TSO and recently Editor of the Association for Project Management Body of Knowledge 7th edition (2019).
Ruth was awarded an Honorary Fellowship of the Association for Project Management in 2013 for her services to risk and change. The synergies between the two disciplines continue to drive Ruth's thinking, writing and practice.
Related titles
ITIL 4 Managing Professional Pack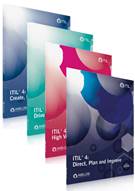 Includes all core manuals in the ITIL 4 Managing Professional pathway in one cost-effective pack.
Available formats:
ITIL Foundation, ITIL 4 edition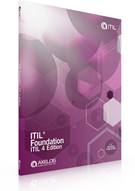 The first step on the ITIL 4 pathway provides IT professionals with an understanding of the ITIL 4 framework and its practical application to the modern digital world while serving as expert reference guidance for solving day-to-day problems.
Available formats: