The Official DVSA Hazard Perception Practice app
iOS
Author: Driver and Vehicle Standards Agency (DVSA)
Publisher: TSO (The Stationery Office)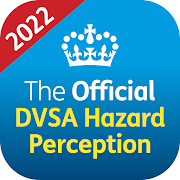 This official Driver and Vehicle Standards Agency iOS app is a simple and convenient way to prepare for your hazard perception test on the go. Sharpen your skills and enjoy a lifetime of safe driving or riding!
The app has 14 interactive video clips, together with an introduction to how the hazard perception test works. It's suitable for every category of learner: car drivers, LGV and PCV drivers, motorcyclists and trainee driving instructors.
Watch the Hazard Perception iOS app video
Four reasons to buy it:
1. From the people who set the tests - who better to learn from?
2. Know what to expect - watch the official DVSA video, which introduces and explains the hazard perception part of the theory test
3. Official practice clips - includes 14 official practice video clips, showing a wide variety of environments and road conditions
4. Clearly track your progress - it's easy to see how you're doing, so you'll know when you're ready to pass!
To prepare fully for your theory test, use this app alongside the other official DVSA apps, books, eBooks, DVD-ROMs, downloads and websites in the series.