Driver & Vehicle Standards Agency
The Official Highway Code
2015 edition, Paperback
Author:

Department for Transport (DfT)/Driver and Vehicle Standards Agency (DVSA)

Publisher:

TSO (The Stationery Office)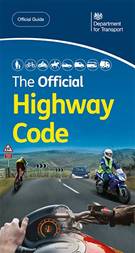 Please note: Get the 2022 edition of the Highway Code here
Keep safe, make sure you're up to date with the latest rules of the road, and avoid penalties and fines by getting your copy of The Official Highway Code.
Seven reasons to buy it:
1. All the rules of the road, including legal requirements
2. Advice on road safety and best practice for ALL road users, including car, van, lorry, bus and tractor drivers, motorcycle, bicycle and horse riders, and pedestrians
3. This book is the source material for many of the theory test questions. Buy it for complete test preparation!
4. Includes advice on motor-vehicle licensing and documentation, vehicle maintenance, first aid on the road, and a safety code for new drivers
5. References to road-traffic legislation and full details of the penalties for motoring offences
6. Emphasises courtesy, attitude and awareness
7. Just £2.50 - don't be without it
The Official Highway Code - for life, not just for learners.