Breakdowns and Incidents - DVSA Safe Driving for Life Series
eBook
Author: Driver and Vehicle Standards Agency (DVSA)
Publisher: TSO (The Stationery Office)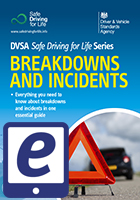 If you want to know more about breakdowns, incidents and basic maintenance, then the Breakdowns and Incidents eBook from the Driver and Vehicle Standards Agency (DVSA) is just what you need.
Packed full of essential information, it includes sections on avoiding breakdowns and dealing with road traffic incidents, as well as detailed advice on what to do if your vehicle has a problem. There are also links to useful resources and a host of tips to keep you on the move.
Five reasons to download it:
1. Keeping you safe - make sure you know how to stay safe if you break down or are involved in an incident
2. It's the law - arm yourself with the knowledge to keep your vehicle roadworthy with our guide to current legislation and basic maintenance
3. Essential checks - find out why oil, coolant and tyre-tread checks are so important
4. Know what to do - learn how to handle a breakdown on motorways or dual carriageways
5. For everyone - indispensable advice for all drivers, whether you're learning to drive or you've been behind the wheel for years
This eBook is available from your device's store:


If you're interested in this, you might also be interested in...

Motorway Driving - DVSA Safe Driving for Life Series (eBook)

Guide to Towing - DVSA Safe Driving for Life Series (eBook)

Ecosafe Driving - DVSA Safe Driving for Life Series (eBook)

Winter Driving - DVSA Safe Driving for Life Series (eBook)

Accompanying A Learner Driver - DVSA Safe Driving For Life Series (eBook)