Heat Processing of Packaged Foods: Guidelines for Establishing the Thermal Process - Guideline 56, eBook
Author: Nick May
Publisher: Campden BRI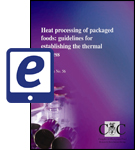 This guideline details the use of heat processes to ensure the safety of in-pack sterilised food and drinks and pasteurised products.
It outlines the principles of, and gives practical advice on, the procedures used to evaluate and select appropriate heat processes. It also offers recommendations on the accuracy of equipment and procedures.
The guidance it provides is essential when establishing heat processes, when revised heat penetration data is required as the result of proposed changes in product composition, manufacturing procedures or sterilisation cycle, and during routine checks to confirm the heat process values of regularly manufactured packs. It is an equally valuable resource for staff with limited experience who need in-depth information on the topic, and their more experienced colleagues who should refer to it for guidance on an ongoing basis.
Contents include:
Selection of heat processes
Heat transfer
Methods for evaluating processes
Critical factors to consider when establishing heat processes
Post trial checks
Scheduling a heat process
Now available from your device's eBook store.

Amazon (opens in new window)



Kobo (opens in new window)



iBooks (opens in new window)


Other formats