Hand Hygiene: Guidelines for Best Practice - Guideline 62, eBook
Author: Debra Smith
Publisher: Campden BRI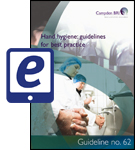 Hand hygiene is an essential element of food safety, but provisions vary widely between facilities. This guideline brings together knowledge and practices from both the food and medical industries and proposes best practice for hand hygiene within the food industry.
It covers a range of areas for producers to consider, including their hand hygiene facilities, prescribed ways for employees to wash their hands and methods for monitoring employees' hand hygiene.
Contents include:
Hands as vectors of contamination
Hygiene hazards associated with hands
Controlling the hazards
Recommended hand hygiene procedure
Hand hygiene procedure compliance
Hand hygiene assessment and control
Skin care
Hand hygiene area facilities design and management
Other considerations
Now available from your device's eBook store.

Amazon (opens in new window)



Kobo (opens in new window)



iBooks (opens in new window)