HACCP: A Practical Guide (Fourth Edition) - Guideline 42, eBook
Author: R. Gaze
Publisher: Campden BRI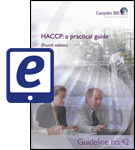 HACCP (Hazard Analysis and Critical Control Point) is the internationally recognised approach to the prevention of foodborne hazards and assurance of food safety.
It provides a science-based analytical tool which helps managers to systematically assess all the steps involved in food operations and identify those that are critical to the safety of the product. This enables manufacturers to concentrate resources in the areas that critically affect product safety, ensuring a cost-effective approach.
Contents include:
History of HACCP
HACCP principles
Prerequisite programmes
How to set up and construct a HACCP study
Implementation
Maintenance of HACCP plans
HACCP and ISO 9000
ISO 22000
Risk assessment.
Now available from your device's eBook store.

Amazon (opens in new window)



Kobo (opens in new window)



iBooks (opens in new window)


Other formats