Guidelines for the Hygienic Design, Construction and Layout of Food Processing Factories - Guideline 39, eBook
Author: John Holah
Publisher: Campden BRI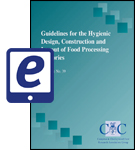 This guideline has been created to help food and construction industry personnel to identify and consider the main hygiene-related factors that need to be taken into account when designing, building and refurbishing food production premises.
It draws on the combined expertise of food manufacturers, construction professionals, food factory service providers and insurers to provide a harmonised approach to factory design.
Taking a systematic approach, the guideline considers a wide range of key factors including building siting and construction, segregation of work areas to control hazards, the flow of raw materials and product, and the movement and control of people.
Contents include:
Define project and business plan
Site location assessment and risk management philosophy
Determine process and mass flow
Determine the required level of segregation
Determine the equipment and factory layout
Estimate the size of factory required and consider new build or refurbishment alternatives
Decision: to build or not to build
Construction (Design and Management) Regulations 1994: the role of the client, the planning supervisor and the designer
Develop construction brief
Establish contract and select main contractor
Undertake building work
Undertake equipment installation
Project completion.
Now available from your device's eBook store.

Amazon (opens in new window)



Kobo (opens in new window)



iBooks (opens in new window)