Effective Microbiological Sampling of Food Processing Environments - Guideline 20, eBook
Author: John Holah
Publisher: Campden BRI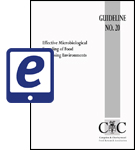 This guideline provides essential advice to help technical personnel to devise suitable and effective plans to systematically sample the food environment, ensuring the safety of food produced in that environment.
Its step-by-step advice takes technical and laboratory managers, and HACCP teams through every stage of the process: from background information, through strategies and sampling methods, to the processing and interpretation of results.
Contents include:
Why sample the food processing environment?
Routes of contamination
Sampling strategies
Sampling site and frequency
Sampling methods
Sample transport and processing
Interpretation of results
Now available from your device's eBook store.

Amazon (opens in new window)



Kobo (opens in new window)



iBooks (opens in new window)


Other formats