Cleaning and Disinfection of Food Factories: A Practical Guide - Guideline 55, eBook
Author: Dr Karen E. Middleton and Dr John T. Holah
Publisher: Campden BRI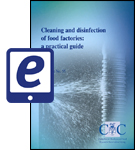 This is the definitive guideline for Technical, Operational and Hygiene Managers, providing information and advice on the design, implementation and control of cleaning and disinfection programmes.
Written with an industry working party, which provided expertise in the fields of both food manufacture and hygiene, the guideline covers every element of the sanitation programme helping users to ensure the physical, chemical and microbiological contaminants are all removed.
Topics covered by the guidelines include:
Responsibilities for cleaning and disinfection
Selection of chemicals required
Methods and frequency of cleaning and disinfection
Schedules
Assessment and auditing of the programme
Training
Programme review
Now available from your device's eBook store.

Amazon (opens in new window)



Kobo (opens in new window)



iBooks (opens in new window)