Risk Assessment and Management of Raw Materials - Guideline 65, eBook
Author: John Holah
Publisher: Campden BRI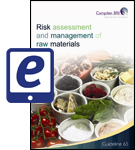 Risk Assessment and Management of Raw Materials provides guidance on the application of risk assessment techniques to identify, evaluate and control hazards associated with raw materials in a food or feed manufacturing environment.
The guideline is designed for companies of all sizes that are looking to develop or update a procedure for raw material risk assessment. It is compatible with the Campden BRI publication HACCP: A Practical Guide.
The guideline is split into five sections, which cover the following aspects of the procedure for raw material risk assessment:
Section 1 describes risk assessment and how it fits with risk analysis and commercial standards within the food industry
Section 2 describes general hazard types often associated with raw materials and gives guidance on sources of further information on hazards
Section 3 provides a step-by-step outline of a risk assessment method
Section 4 describes horizon scanning as a tool for identifying emerging and potential threats that a risk assessment team should consider as part of the ongoing process
Section 5 offers a list of information sources to help remain up-to-date
Now available from your device's eBook store.

Amazon (opens in new window)



Kobo (opens in new window)



iBooks (opens in new window)


Other formats