Pasteurisation: A Food Industry Practical Guide (Second Edition) - Guideline 51, eBook
Author: J.E. Gaze
Publisher: Campden BRI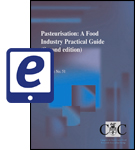 This guideline provides in-depth information on the pasteurisation process, helping food and drink manufacturers to safely apply the principles to their products.
It explains the principles of pasteurisation and considers its use in the context of a range of manufacturing options. It emphasises that pasteurisation is a series of heat treatments rather than a uniform process and highlights the factors that must be considered during application, including the material being pasteurised, pH, storage temperature, pack atmosphere and water activity.
Contents include:
Principles of pasteurisation
Manufacturing options
Food products - examples of typical heat treatments
Validation of pasteurisation process
Now available from your device's eBook store.

Amazon (opens in new window)



Kobo (opens in new window)



iBooks (opens in new window)