Manual of Hygiene Methods for the Food and Drink Industry - Guideline 45, eBook
Author: J. Holah and K. Hall
Publisher: Campden BRI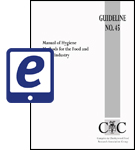 This guideline is an essential reference for factory laboratory, quality assurance, technical or hygiene staff. It provides detailed descriptions of hygiene methods for the environmental sampling of surfaces, people, the air and process waters. Also included for each method is a flow diagrams for easy reference in laboratories whilst work is in progress.
The hygiene methods contained in the manual can be used as reference methods for laboratories undertaking the Campden Laboratory Accreditation Scheme or seeking accreditation to ISO/IEC 17025:1999.
Contents include:
General guidelines for sampling strategy and equipment, sample taking, transport, receipt and handling, and controls and risk analysis
Group 1 methods - surface sampling and assessment
Group 2 methods - air sampling
Group 3 methods - personnel
Group 4 methods - process water? Group 6 methods - verification
The Manual of Hygiene Methods for the Food and Drink Industry should be used in conjunction with Guideline 20, Effective Microbiological Sampling of Food Processing Environments.
Now available from your device's eBook store.

Amazon (opens in new window)



Kobo (opens in new window)



iBooks (opens in new window)


Other formats