Validation of Cleaning to Remove Food Allergens - Guideline 59, eBook
Author: Helen Arrowsmith and Helen Brown
Publisher: Campden BRI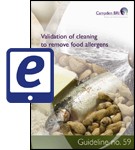 Validation of Cleaning to Remove Food Allergens provides essential guidance for manufacturers that produce both products that intentionally contain allergens and those that do not, on the same line or in the same processing environment.
It details the sampling options to ensure that processing lines have been properly and effectively cleaned to remove allergens between runs, discusses the limitations of these options and highlights areas for consideration when choosing between them.
Contents include:
Why validate cleaning to show efficacy of allergen removal?
What is cleaning validation?
What to test
Consideration of data
Ensuring the efficacy of cleaning for allergens on an on-going basis
Documentation of validation exercise, on-going verification and validation confirmation
Now available from your device's eBook store.

Amazon (opens in new window)



Kobo (opens in new window)



iBooks (opens in new window)


Other formats