The Official DVSA Guide to Riding - the essential skills
eBook
Author: Driver & Vehicle Standards Agency (DVSA)
Publisher: TSO (The Stationery Office)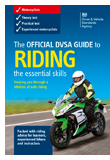 Whether you're a learner, an experienced motorcyclist or an instructor, this book will help you to develop safe riding skills for life.
Full of tips on the skills you need to show, this essential publication now includes information on attitude and behaviour, as well as important riding concepts such as limit points and counter-steering.
Five reasons to buy it:
1. For your riding life - packed with loads of useful advice to help you stay safe on the roads; ideal for refreshing your knowledge before and after your test
2. Riding techniques - learn more about key skills such as cornering, bend assessment and defensive riding
3. Riding in all conditions - including avoiding and dealing with congestion and riding in poor weather
4. Extra information - includes sections on routes to licence, vehicle maintenance and ecosafe riding
5. For learners - a source of questions and answers for the motorcycle theory test: study this guide for complete test preparation
The official route to safe riding for life, from the people who set the tests.
Available fom your devices' eBook store: