Report on Excess Votes (Northern Ireland) 2010-2011
NIA 47/11-15, Seventh Report of Session 2011-2015
Author:

Northern Ireland Assembly: Public Accounts Committee

Publisher:

TSO (The Stationery Office)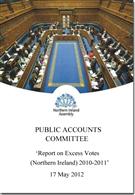 'Report on Excess Votes (Northern Ireland) 2010-2011 (NIA 47/11-15)' is a report on part of the Northern Ireland Assembly's control framework over Government spending. The Committee considers the reports by the Comptroller and Auditor General on resource accounts of departments that have exceeded the limits of expenditure authorised by the Assembly.
The Committee recommends whether the Northern Ireland Assembly should approve further resources to the departments concerned in order to regularise the excess expenditure. Where the excesses are the results of failures in control within departments, the Committee may make recommendations for improvements.
The system of resource-based supply requires departments to estimate and manage the resources they will need during a financial year on an accruals basis, as well as the cash they will need as commitments mature. The Assembly authorises both cash spending and the use of resources.
In 2010-11 two departments incurred excess expenditure:
the Department for Social Development (DSD) incurred a resource excess of £10.2 million; and

the Department of Culture, Arts and Leisure (DCAL) incurred a resource excess of £2.8 million.
On the basis of our examination, the Committee recommends that the Northern Ireland Assembly provides the necessary amounts by means of an Excess Vote.
Find similar publications here: