Car Drivers
The Official DVSA Highway Code and Complete Theory Test Kit for Car Drivers app bundle £7.49
Author: Driver & Vehicle Standards Agency (DVSA)
Publisher: TSO (The Stationery Office)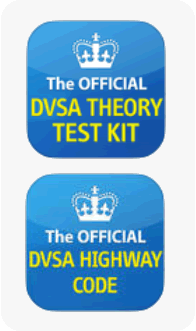 Buy the best-selling Theory Test Kit app for £4.99 and get the Official DVSA Highway Code app for only £2.50 - saving you £1.49!
This bundle includes the ONLY OFFICIAL Driver and Vehicle Standards Agency (DVSA) app for the Car Theory and Hazard Perception test, and the Official Highway Code app. Written by DVSA - the people who set the tests. This convenient bundle will give you all the information you need to pass your theory test first time and continue driving safely, keeping up-to-date on all the rules of the road.
6 Reasons to download the Theory Test Kit app:
No. 1 best-selling theory test app - this official app has helped over 250,000 people prepare to pass their theory test over the past 3 years!
Study - information on all 14 topics of the theory test to help you understand the theory fully, along with 10 official DVSA practice hazard perception interactive video clips and an introduction to the test
Learn - answer theory test questions on various topics to see how much you have learnt.
Tests - take a theory mock test with the theory test app, which includes EVERY official DVSA car theory test revision question and answer.
Extras - loads of extras to help prepare for you theory test and beyond, including a voiceover option
Easy to use - makes revision for your theory test really simple with a 3-step approach: study, practice and mock test
6 Reasons to download the Highway Code app:
Read - read and search the complete contents of The Official Highway Code
Learn - track your progress as you read, and check what you've learnt with a quick test at the end of each chapter
Traffic Signs - browse signs or use the interactive sign matcher to find signs and road markings
Quizzes - take Highway Code and traffic sign quizzes - a fun way to make sure your knowledge is up-to-date
Extras - loads of extra features including a stopping distance calculator, videos and useful links.
For Everyone - the Highway Code is for all road users, including car, van, lorry, bus, tractor drivers, motorbike, bicycle and horse riders, and pedestrians
These apps are optimised for iPhone, iPod touch and iPads.