Car Drivers
The Official DVSA Theory Test Kit for Car Drivers app
Author:
Driver & Vehicle Standards Agency (DVSA)
Publisher: TSO (The Stationery Office)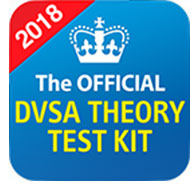 The ONLY official Driver and Vehicle Standards Agency (DVSA) app for the car theory and hazard perception test. Written by DVSA - the people who set the test. Our smartphone apps have helped over one million people pass their theory test with confidence.
Watch The Official DVSA Theory Test Kit smartphone app video
Six reasons to buy it:
1. Study - information on all 14 topics to help you fully understand the theory
2. Practice - answer questions on each topic to see how much you've learnt. There are also practice case studies
3. Mock tests - includes EVERY official DVSA car theory test revision question and answer. No other app has more official questions
4. Hazard perception - 20 official, interactive DVSA practice hazard perception video clips and an introduction to the test
5. Extras - loads of extra features to help you prepare for your test and beyond, including The Official Highway Code and a voiceover option
6. Easy to use -a clear three-step approach - study, practice and mock tests - makes revision on the go really simple
Great value at only £4.99 for this official app - much less than the cost of retaking your test!
Available on IoS and Android: