The Official DVSA Theory Test Kit for Drivers of Large Vehicles download
Author:

Driver and Vehicle Standards Agency

Publisher:

TSO (The Stationery Office)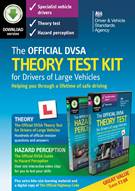 Add to Basket
Please note: We're aware that some Apple Mac users running MacOS Catalina (version 10.15) are experiencing problems using this product and we're working on a solution to this. If you're a Mac user running Catalina then we'd advise you to use the DVSA Learning Zone (opens new window) instead for the best user experience.
Prepare to pass your theory test first time with The Official DVSA Theory Test Kit for Drivers of Large Vehicles, the only official software revision tool for PC and Mac that covers both the theory and hazard perception parts of your test.
Develop your theory and hazard perception skills with hundreds of official revision questions and answers. Explore a variety of environments and road conditions, and create your own practice tests. This interactive download is essential for learner LGV/PCV drivers and instructors.
Save £7.98 on buying the downloads separately
Key features:
Practice questions - includes hundreds of official DVSA theory test revision questions for all 14 topics, so you can see how much you've learnt

Learn from the experts - DVSA, the people who set the tests. This download has over 100 high-quality, interactive video clips designed to help you pass

What is a hazard? - the study section teaches you everything you need to know about hazard perception (including scanning and looking for clues), so you're completely prepared for your test

Responding to hazards - packed with interactive exercises to help you learn your way; including a sign matcher, multiple choice clips, multiple choice questions, and commentary clips

Test yourself - prepare for the day of your theory test: test yourself with questions and clips designed to reflect the real test

Clearly track your progress - it's easy to see how much you've completed and how you're doing, so you know when you're ready to pass!
More information
Makes passing your test simpler - follow the clear three-step process 'study, practise, test yourself', so that you're completely prepared for your test

Review and improve - the clip-review feature shows you exactly where the hazards are, so you can keep improving.