The Official DVSA Guide to Hazard Perception online
Author: Driver & Vehicle Standards Agency (DVSA)
Publisher: TSO (The Stationery Office)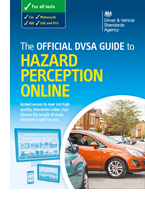 Prepare to pass your hazard perception test first time, or simply sharpen your driving skills, with the ONLY official online learning programme from DVSA, the people who set the test.
Get instant access to more than 100 high-quality hazard perception clips, covering a variety of environments and road conditions. You can start revising straight away on whatever smartphone, tablet, laptop or computer you have. Just choose the length of study time that's right for you.
Essential for learner car drivers, motorcyclists, LGV drivers, PCV drivers and trainee driving instructors. Great practice for ALL road users.
Watch the Official DVSA Learning Zone video
Choose your subscription period:
Five reasons to buy it:
1. Learn from the experts - DVSA, the people who set the test. The website has over 100 high-quality, interactive video clips designed to help you pass
2. What is a hazard? - the study section teaches you everything you need to know about hazard perception (including looking for clues and scanning), so you're completely prepared for your test
3. Responding to hazards - packed with interactive exercises to help you learn, including a sign matcher, multiple choice clips, multiple choice questions, and commentary clips
4. Prepare for your theory and practical tests - practise with clips designed to reflect the real test
5. Clearly track your progress - it's easy to see how much you've completed and how you're doing, so you know when you're ready to pass!
And there's more:
Makes passing your test simpler – follow the clear three-step process 'study, practise, test yourself', so that you're completely prepared for your test

Review and improve - the clip review feature shows you exactly where the hazards are, so you can keep improving
To order:
Please visit dvsalearningzone.co.uk (opens in new window).



iPhone and iPod Touch users
The Learning Zone's interactive hazard perception videos are optimised for iPhone and iPod Touch devices running iOS10 or later. If you're running iOS9 or older, we recommend that you use one of your other internet-connected devices for these videos, or choose one of our best-selling DVSA apps from the Apple App Store.