Bus, Lorry & Specialist Vehicle Drivers
The Official DVSA Theory Test LGV online
Author: Driver & Vehicle Standards Agency (DVSA)
Publisher: TSO (The Stationery Office)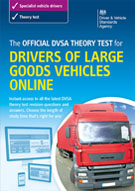 Get ready to pass the multiple choice part of your LGV theory test first time!
The Official DVSA Theory Test for Drivers of Large Goods Vehicles Online provides you with instant access to all the latest LGV theory test revision questions and answers. You can start revising straight away on whatever smartphone, tablet, laptop or computer you have. Just choose the length of study time that's right for you.
Five reasons to buy it:
1. Simple to use - access learning and practice materials on any device (Internet connection required). NO discs or disc drive needed
2. Study sections on all 14 topics - written in an easy-to-remember way that links the theory to your practical driving experience, helping you to really understand
3. Clearly track your progress - it's easy to see how much you've completed, how you're doing and which topics need a bit more work
4. Prepares you for the day of your test - mock tests just like the real thing. The revision questions cover the same topics as the actual test
5. Always up to date - you get instant access to the latest content
And there's more:
Extra help to understand the answers - each question includes references to the official source materials, where you can learn more

Helpful extras - links to The Official Highway Code and a voiceover option
To order:
Please visit dvsalearningzone.co.uk (opens in new window).

It is also possible to purchase multiple logins for your team or organisation. Call on 01603 696 860 or email dvsa.merchandising@wlt.com to find out more.