The Gazette

The London, Edinburgh and Belfast Gazettes are the United Kingdom's official Newspapers of Record. Each edition of the Gazette includes notices that must be made public as a statutory requirement before certain legal powers and procedures can be exercised or finalised.
The Gazettes are now initially published online at www.thegazette.co.uk, which includes a searchable database of all notices placed in the Gazettes since 1665. The archive is of great interest to historians, professional and amateur. Highlights include the Great Fire of London, the battles of Waterloo and Trafalgar, the first Victoria Cross, and World Wars I and II.
Printed and PDF copies of the London, Edinburgh and Belfast Gazettes are also available for subscription.
Subscriptions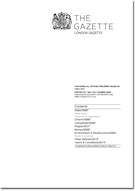 £465.00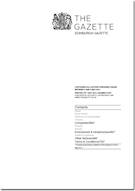 £109.00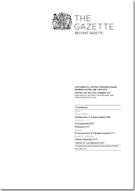 £82.00
---
Queen's Awards Supplements
Managed by The Cabinet Office, the British Honours system has evolved over 650 years as the country has found alternative means of recognising merit, gallantry and service.
Honours lists are published twice yearly: at New Year and on the date of The Queen's official birthday in June. Anyone can nominate someone for an award. Anyone can receive an award if they reach the required standard of merit or service.

The Queen's Birthday Honours List awards honours at the celebration of Her Majesty's birthday. The Honours List 2017 pays tribute to those who have made remarkable achievements and served their communities exceptionally.

The main United Kingdom, or Prime Minister's list, details the people from all walks of life awarded honours for the New Year 2017. Separate lists are also published for honours awarded in a number of dependencies and overseas territories. In total 1,197 people have received an award.
---