The Gazette
The London Gazette Birthday Honours List 2018 - United Kingdom
Supplement No.1
Publisher:

TSO (The Stationery Office)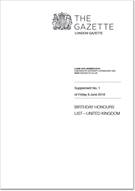 Add to Basket
The Queen's Birthday Honours List awards honours at the celebration of Her Majesty's birthday. The Honours List 2018 pays tribute to those who have made remarkable achievements and served their communities exceptionally.
Recipients of honours in 2018 include:
Emma Thompson, Actor;

Kate Adie, Journalist;

Anthony Joshua, Boxer;

Prof Simon Schama, Historian; and

Prof Mary Beard, Classicist.
Each person who is awarded an honour will have their own personal and permanent record, containing all the details of their award. Commemorate an award with a personalised edition of The Gazette. Visit The Gazette shop for more information.
You can find individual records by searching The Gazette website at https://www.thegazette.co.uk/.
Find similar publications here: