The London Gazette Queen's Award for Enterprise 2018
Supplement No. 1
Author:

The Gazette

Publisher:

TSO (The Stationery Office)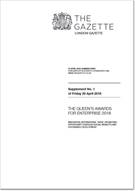 Add to Basket
Every April winners of the Queen's Awards for Enterprise are officially announced in a special Gazette supplement.
The Queen's Award to Industry, the scheme's original title, was instituted by Royal Warrant in 1965.
It became the Queen's Awards for Export and Technology in 1975, with Environmental Achievement added in 1992. In 1999, the scheme became the Queen's Awards for Enterprise with International Trade, Innovation and Sustainable Development as the categories. In 2017, a fourth category was introduced, Promoting Opportunity (through social mobility).
Since 2005, individuals have also been recognised with the Queen's Award for Enterprise Promotion. As of 2017, this individual award has been rested.
Each person who is awarded an honour will have their own personal and permanent record, containing all the details of their award. Commemorate an award with a personalised edition of The Gazette. Visit The Gazette shop for more information.
Find similar publications here: