Police & Criminal Law
Code Of Practice For Officers Exercising Functions Under Schedule 1 Of The Counter-Terrorism And Security Act 2015 In Connection With Seizing And Retaining Travel Documents
Author:

Home Office

Publisher:

TSO (The Stationery Office)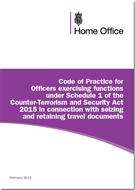 Add to Basket
This new Code of Practice offers guidance to police and Border Force security staff. Officers exercising the power will be required to follow the code of practice and the courts will take the code of practice into account when determining any question arising out of the exercise of this power.
Under schedule 1 of the Counter-Terrorism and Security Act 2015, the police may temporarily seize the passports and travel documents of individuals suspected of travelling for the purpose of engaging in terrorism-related activity outside the United Kingdom and retain these documents for up to 30 days.
This new measure will be a significant addition to the powers that currently exist to disrupt terrorism-related travel. The power can be exercised by the police or, upon police direction, by a Border Force officer at any port within the United Kingdom or in the border area between Northern Ireland and the Republic of Ireland.
The Counter-Terrorism and Security Act received Royal Assent on 12 February 2015. The act aims to:
Disrupt the ability of people to travel abroad to fight and their ability to return here

Enhance our ability to monitor and control the actions of those in the UK who pose a threat

Combat the underlying ideology that supports terrorism
Find similar publications here: