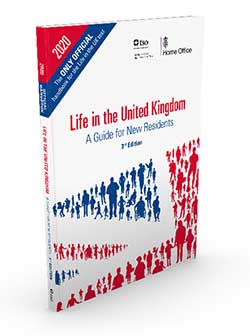 Life in the United Kingdom
A Guide For New Residents
Author: Great Britain Home Office
Publisher: TSO (The Stationery Office)
Ensure you are fully prepared for your Life in the UK test with the only official handbook on which the Life in the UK test is based. This essential handbook contains all the official learning material for the test and is written in clear, simple language – making it easy to understand.

COVID -19: Important Information for candidates
Life in the UK Test centres will be closed in line with official requirements of the UK Government from 21 March until 13 April 2020 as a precautionary measure against coronavirus (COVID-19) to help protect the health of test takers and staff.
If you have booked a test to take place during this period, your test booking will be rescheduled automatically to a date after 13 April 2020.
If you are booking a new test, test dates are still available from 13 April 2020.
For the latest health information and advice on Coronavirus please visit www.gov.uk/coronavirus
...Read more
Addendum
On 31 January 2020 the United Kingdom left the European Union (EU).
Sections of the handbook, Life in the United Kingdom: A Guide for New Residents 3rd edition, which refer to the UK being a member of the EU and its institutions, are out of date and have been removed from subsequent prints of the handbook.
You will not be asked any questions on the EU or the UK's relationship with the EU as part of the Home Office approved test based on the current (3rd) edition of the Life in the UK handbook.
Home Office
January 2020
More information
This essential handbook covers the range of topics you need to know to pass your test and apply for UK citizenship or permanent residency, including:
The process of becoming a citizen or permanent resident
The values and principles of the UK
Traditions and culture from around the UK
The events and people that have shaped the UK's history
The government and the law
Getting involved in your community
To help you prepare for your test, you will find:
'Check that you understand' boxes at the end of every section
A glossary of key words and phrases
Show less
Recommendations...