Children's Needs - Parenting Capacity - Child Abuse: Parental Mental Illness, Learning Disability, Substance Misuse and Domestic Violence
2nd Edition
Author:

Cleaver H; Unell I and Aldgate J – Department of Education

Publisher:

TSO (The Stationery Office)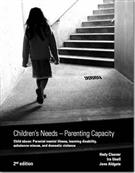 This second edition of 'Children's Needs - Parenting Capacity' provides an update on the impact of parental problems, such as substance misuse, domestic violence, learning disability and mental illness, on children's welfare.
Research, and in particular the biennial overview reports of serious case reviews have continued to emphasise the importance of understanding and acting on concerns about children's safety and welfare where these types of parental problems are present.
The book is divided into three parts:
Part I explores the following general issues:
Chapter 1: questions whether concern is justified, and explores the problems of definition and prevalence.

Chapter 2: explores the ways in which mental illness, learning disability, problem drug use (including alcohol) and domestic violence affect parenting capacity.

Chapter 3: identifies which children are most vulnerable.
Part II has a specific focus on children of different ages and stages of development:
Chapter 4: discusses the impact of parental problems for children under five years.

Chapter 5: focuses on the issues for children aged five to ten years.

Chapter 6: focuses on young people aged 11 years and over.
Part III draws together the findings and implication for policy and practice:
Chapter 7: discusses the conclusions from the study.

Chapter 8: outlines the implications for policy and practice.