World Tourism Organization
Tourism in the Green Economy: Background Report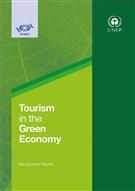 Add to Basket
The Tourism Background Report is an extended version of the Tourism Chapter of the Green Economy Report (GER), which makes the case for investments in greener and sustainable tourism as a means to create jobs and reduce poverty while also improving environmental outcomes.
The Report analyses the main variables that influence tourism development and aims to demonstrate that concerted "greener" policies can steer the growth of the sector toward a more sustainable path.
Compared with a "business-as-usual" scenario, it shows how a green investment scenario would allow the sector to continue to expand steadily over the coming decades while ensuring significant environmental benefits such as reductions in water consumption, energy use and CO2 emissions. The Report aims at encouraging policy makers to support increased investment in greening the tourism sector.
Find similar publications here: