World Tourism Organization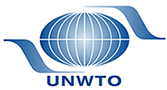 World Tourism Organization (UNWTO)
The World Tourism Organization is the leading international organization in the field of travel and tourism. It serves as a global forum for tourism policy issues and a practical source of tourism know-how.
UNWTO's membership includes 139 countries and territories and more than 350 Affiliate Members representing local government, tourism associations and private sector companies, including airlines, hotel groups and tour operators.
With its headquarters in Madrid, Spain UNWTO is an inter-governmental body entrusted by the United Nations towards the promotion and development of tourism. Through tourism, UNWTO aims to stimulate economic growth and job creation, provide incentives for protecting the environment and heritage of destinations, and promote peace and understanding among all the nations of the world.
---
Featured titles
---
---