HIV/AIDS
Strategy to Halt and Reverse the HIV Epidemic among People who Inject Drugs in Asia and the Pacific 2010-2015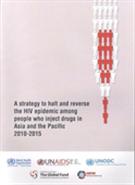 Add to Basket
'Strategy to Halt and Reverse the HIV Epidemic among People who Inject Drugs in Asia and the Pacific 2010-2015 ' is a call to action and a road map to ensure that the HIV and hepatitis epidemics among people who use drugs and their sexual partners in the Asia Pacific region will be halted. It is a collective product prepared on behalf of the United Nations Regional Task Force on Injecting Drug use and HIV for Asia and the Pacific.
The strategy is designed to provide a regional framework, and it identifies issues and priorities and provides guidance to countries in the region for developing national strategic responses over the next six years. It shows the important link between halting the HIV epidemic and health and development, and will help countries achieve United Nations Millennium Development Goal 6 that calls for a halt and a reverse in the spread of HIV by 2015.
It also addresses new challenges and the responses required to overcome them, including the diagnosis and treatment of the hepatitis C co-infection and the need for evidence-based drug treatment for people who use methamphetamines. All the responses to these challenges should be guided by strategic information and grounded in the meaningful involvement of people who use drugs.
Find similar publications here: