HIV/AIDS
Joint Review of the Cambodian National Health Sector Response to HIV 2013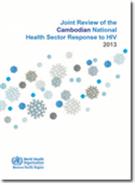 Add to Basket
Cambodia faced one of the fastest growing HIV epidemics in Asia in the mid-1990s. Within five years, it became one of the few countries to have reversed the trend. In 2010, Cambodia received a Millennium Development Goal (MDG) award from the United Nations.
This publication presents the findings of a review of the national health sector response to HIV and sexually transmitted infections (STIs) conducted in Cambodia from 30 April to 10 May 2013 by a composite team of national and external members.
The review focused on the period from 2011 to 2012, and took place at a time when a new conceptual framework for elimination of new HIV infections in Cambodia by 2020 ("Cambodia 3.0") was being finalized.
Find similar publications here: