Cancer
World Cancer Report 2014
Author:

World Health Organization

Publisher:

IARC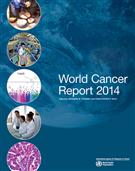 Add to Basket
This book from the International Agency for Research on Cancer, the specialized cancer agency of the World Health Organization, provides a unique global view of cancer, including cancer patterns, causes, and prevention.
Key features:
Recognised as an authoritative source of global perspective and information on cancer

Includes more than 60 chapters with contributions from more than 150 distinguished scientists from around the world

In-depth discussions of selected questions or topics are summarised

Input from authors whose record of outstanding achievement qualifies them as individuals having unique vision. In this publication they give their perspective on the future development of different aspects of cancer research.
World Cancer Report 2014 provides a professional, multidisciplinary assessment of all aspects of the geographical distribution, biology, etiology, prevention, and control of cancer, predicated on research. World Cancer Report is designed to provide non-specialist health professionals and policy-makers with a balanced understanding of cancer control and to provide established cancer professionals with insights about recent development.
Find similar publications here: